[vc_row][vc_column][vc_column_text]
SEO has always been the internet world's Buzzword. After all, every business wants higher rankings and come up on Google's first SERPs. Well, if you have a WordPress website up and running, you might know how important it is to optimize your website for search engines. No matter, how you create your website, without proper SEO it won't operate at full pace. An SEO friendly website is more likely to appear on the first page of the search outcomes and drives steady traffic. However, you can easily generate an SEO friendly website and rank on the first page using WordPress. To enhance your WordPress SEO, it offers you a lot of plugins but there are other various tips and tricks that you can follow to make a difference. So, in this post, I am going to discuss the best WordPress SEO tips for your website and then you can boost your website like a rocket. But before this let's discuss some basic terminology.
What is WordPress SEO?
WordPress is a content management system that simplifies the web-based content, editing, and publishing process.
SEO is the best way to drive traffic on your website and get more customers and boost your product sales. Having an SEO ready website influences over 200 factors.
You can easily build an SEO friendly website and rank on the first page in Google. Therefore, one of the most important is WordPress SEO.
Best WordPress SEO strategies to get the most from the search engine are: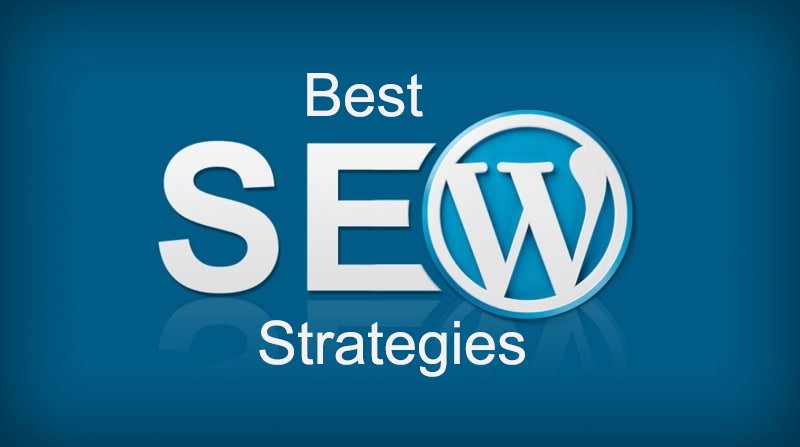 Set your permalinks: The URL of your website pages and posts are referred to as permalinks. They are what users use to navigate your website and view the specific page in their address bars. They are also used to connect your website to other websites and search engines. A well-structured URL allows users to understand from the URL alone what the site is about. A good URL is always accepted by users as well as search engines. So, to set the URL according to your convenience and needs, WordPress comes with a default permalink setup. Changing the default setting to post name i.e. / % postname % / is always the best practice as it is easy for users to remember and for search engines to index.
SEO friendly theme: WordPress offers a range of themes that can be used to give a strong base to your website. But, it is good to choose a theme that is designed for search engines instead of selecting a theme that looks beautiful and aesthetically appealing. There are 2 main things in the SEO optimized design I.e. speed and code. A well-written code with the latest SEO best practices ensures that Google bots wade through the source code and find the right code. Following are some of the important factors to consider while selecting a theme:
Incorporation of open graph Meta tags to improve social media communication.
The right use of meta-title tags and headings.
A tidy and elegant design that uses valid and correct HTML.
Use the canonical URL Meta tag correctly.
As mobile searches are increasing day by day, your website should be ready for that. You can check your website mobile-friendliness theme from Google's Mobile-friendly test tool.
Choose the best WordPress SEO plugin: You may not be familiar with plugins yet if you are new to WordPress. These are small pieces of add-on code that you can install, bringing to your page new features and functionality. While choosing the best WordPress plugin, you are likely to narrow your choice between the 2 most popular solutions: All in one SEO pack or Yoast SEO. Such plugins are used for showing a Google Search Result snippet preview to boost the on-page SEO of your website. Also, they help you create your website's XML sitemap.
Submit your website to Google search console: Google Search Console, also known as Webmaster Tools, is a set of tools offered by Google to give the website owner an insight into how the search engine views their content. To help you understand how your page appears in the search results, it offers reports and information. You can also see the actual search words that people use to locate your website, how each page appears in the search result, and how often your pages are clicked. If you want to check whether your website is listed in Google or not, search Google for "Site: Sitename.com". If your content is not indexed yet, you will see no result message.
Make your content shareable: over the past few years, social media has gained immense prominence. Today, almost every web user is active on different social media networks like FaceBook, Twitter, LinkedIn, Google+ and many more. Having your content available helps your readers to share it across various social networks while driving massive traffic to your site. Adding social sharing buttons to your website not only boosts traffic but also improves the reputation of your website.
Www vs. non-www URL: If you are just starting your website, choose whether to use www (http:/www.test.com) or non-www (http:/test.com) in the URL of your website. As Google view both these versions as the separate pages of the same URL. And just for the site suffix, you never want to waste your SEO efforts. Technically saying, on both the versions there are no SEO effects. The edition of WWW renders the URL complete. So, it is up to you what you choose. WordPress will redirect to the other versions of the URL automatically. I.e. if you select a non-www version and somebody tries to search for www version, then WordPress will redirect it automatically and vice-versa. These 2 options can be found under Settings-> General. Add your preferred URL to both the "site address field" and in "WordPress address".
Produce high-quality content: Content is one of the great things that will boost the chances to get a higher ranking. Whether you are running a blog or a corporate website, to rank higher in search engines, you will need quality content. People access the internet when they are looking for some specific and valuable information. And the key to successful SEO is to give them exactly what they are looking for. The more visitors you can attract in your page, the more you'll get.
Hope you are enjoying these tips and find them useful when you will do WordPress website SEO.
We know content is informative and interesting to read but it's going very long. So we will share more Tips in our next post.
[/vc_column_text][/vc_column][/vc_row]