ebay Product Listing Services Company
Dependable ebay Bulk Upload and Product Listing Services from Faith Ecommerce Services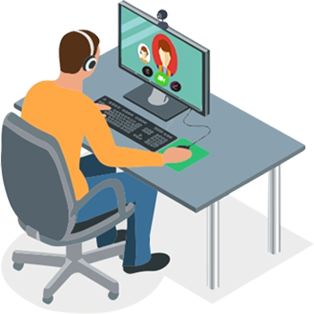 The one marketplace that offers immense visibility and profitability to any type of product or industry across the globe is eBay. Standing out as a premier product listing portal, eBay is a preferred option for millions of users looking to buy items online. But since there are thousands of products in every category available for sale on eBay, you need to focus on building a strong portfolio in order to sell your offerings to more customers.
To help you explore the maximum profitability, Faith Ecommerce offers eBay product upload services and a suite of other ecommerce solutions. From eBay bulk upload to image editing and customer engagement, we handle all the activities for your eBay store with utmost perfection and expertise.
Improving Your Business' Online Profitability in 3 Easy Steps
In this age, selling online is not only more convenient, it also enables you to reach out to more customers from all parts of the world. But in order to do that, you need an appealing and trustworthy profile on eBay and other platforms. With our dependable eBay data entry services and eBay listing optimization solutions, your products will witness the right exposure and visibility that can increase your profitability.
Step 1 – Creating a Strong Portfolio
The team of ecommerce experts at Faith eCommerce Services, works extensively towards building a reliable and appealing seller profile for you on eBay. This includes developing creative seller bio, uploading and managing product categories, and designing a tailor made strategy for your eBay account. All the aspects of your eBay seller profile are materialized by our team in compliance with eBay policies, giving you an assured long term growth.
Apart from this, we work on developing unique product names and informative product descriptions with relevant keywords. Our in-house image editing and designing team beautifies your product images to attract customers.
With latest ecommerce tools and infrastructure, we are capable of uploading hundreds of products on eBay within minutes. This not only saves a lot of initiation time, but also gets your products in front of customers sooner.
Step 2 – Optimizing Products for Search Visibility
Simply uploading products online does not ensure that they will reach the target audience. Taking inputs from our years of experience in ecommerce solutions, our eBay product upload services come with a special focus on eBay listing optimization. As a part of our eBay data entry services, we undertake product/category research to look for highly searched keywords and phrases, which are included in your products' unique name and descriptions. This way, your products feature on top of the search results when customers look for products on eBay.
Step 3 – Building Customer Base with Quality Engagement
Uploading and managing products on your eBay profile is a major part of successful online sales, but it is not the entire process. Beyond product listings, interacting with your target audience goes a long way in ensuring more sales. Abiding with our commitment to offer all-round eBay listing services, we also offer order processing and customer engagement solutions.
Under this, our team takes the front in interacting with your customers by responding to queries, processing and overlooking orders, handling customer feedback and dealing with grievances amongst other things
How Faith Ecommerce's eBay listing services help your business?
eBay Listing Optimization
Uploading products on eBay in bulk does not mean simply listing items without any strategy. As a part of our eBay listing services, our team works on search optimization of your products, making them feature higher on search query results. We incorporate best practices from SEO to make your products visible on all relevant queries searched by customers on eBay. Proper focus is laid on keyword inclusion, naming product images and adding relevant tags to your products.
Product/Category Research
Our team undertakes a thorough research of your products type and relevant categories to create a custom eBay bulk upload strategy. We identify close competitors, assess their offerings and give you a detailed report on how to best showcase your products on eBay. This helps us list your products in a manner that makes them easy to be found by customers. Beyond this, we also create a list of relevant keywords and search queries that can be targeted to offer even more visibility to your products on the portal.
Customer Engagement and Order Processing
Faith Ecommerce aims at offering comprehensive eBay listing services. This means we go beyond listing products and managing your online portfolio. Our team also handles all-round communications for your eBay seller profile, giving you more time to focus on business development activities. We handle all queries from your customers, and manage order processing, inventory management and any other requirements you might have.
Image Editing and Upload
Product images are one of the most important factors on which the sales of your product depends. That is why our in-house image editing team makes sure that every product image uploaded to your eBay store is high-quality, adhering to the norms of the platform, and appealing to potential customers. Many times we have seen our clients come to us with some alert of their listing because of low resolution images. If eBay send an alert of product that means eBay will not allow seller to sell the product till the time seller does not fix the reason of alert.
Bulk eBay Products Upload Services
Our eBay experts use efficient third party software while bulk uploading the product data to your eBay store. They are proficient in manual eBay bulk upload as well. We also create precise and rich product descriptions for your products, aimed to impress potential customers and earn higher search rankings. Our eBay data entry services also include including high-quality, attractive product images on uploads that effectively depict your products. 
From unique product names and creatively crafted descriptions to sharply enhanced images, relevant image and product id, we understand what it takes to be successful on eBay. This is why we are proud eBay product upload services providers to sellers from around the globe.