Joomla Design Services by Faith E-commerce: Things to know.
Joomla is an open-source platform through which user-friendly websites and responsive platforms can be created. Joomla design services in recent years have gained full recognition as its primary focus has been on extensibility and usability. It is a content management system that connects your website to a MySQLi or MySQL database which makes content management easier. We at Faith e-commerce services have a dedicated and experienced team of Joomla web developers so that you can achieve excellent user interactivity and functionality for your website. Our web IT experts can quickly provide you with Joomla website customization for your various web portals like e-commerce/online shop, real estate, bulletin boards, job portals, chat rooms, etc.
Why should you choose Joomla website design services?
It is worthwhile to mention that Joomla includes an array of extensions and components that are available for free or at a little cost. This makes it easy for us to design and craft high-quality websites at affordable rates within the stipulated time. We have perceived Joomla as an extraordinarily versatile and mobile compatible CMS which gives our web designers the flexibility to manage and build content.
Why is opencart design agency becoming a leading name in the industry?
Joomla design services are one of the most widely used open source platforms for the creation of flexible and engaging websites as well as web portals. It is one of the Simple & best content management systems. It has a definite edge over its other peers as it offers a range of extensions along with user-friendly features. However, in order to make your website stand out from your competitors, you need to look for an experienced Joomla web Design Company like Faith e-commerce services. At Faith e-commerce services, we are of the view that Joomla is a platform which would allow you to create, manage and publish content for web applications, portals, and sites. It is written in PHP and is based on the architecture of model-view-controller also known as MVC. We have a team of experienced Joomla designers who have the ability to leverage the key features of this widely recognized CMS. We help your business to grow by building custom websites and portals irrespective of the size and complexity of your commercial objectives.
High extensibility
Joomla comes with 'one-click version update' feature which makes the website owners super easy to keep their site or multiple sites updated. Our Joomla website design services make sure that you can customize your sites, web portals and applications with more than 7000 extensions which further assists in easy loading.
Joomla web design service makes content management easier
When compared to other content management systems, Joomla makes content management task an easier one. With the help of Joomla, our web designers can easily edit content, add new pages, upload pictures and does much more without much effort.
It is a multilingual CMS
It is worth mentioning here that Joomla comes with more than 64 languages for content management. This open source platform allows our web designers to create websites with an excellent design which can be presented in multiple languages and further enhances their readability. This implies that by using regional words, you can easily target your audiences and seize new market opportunities.
Have a glance at our Joomla web design services!
Being one of the leading Joomla Web Design Companies, Faith e-commerce services offers an array of web design services. It helps us to cater to the diverse needs of our clients. We have a team of highly skilled and experienced Joomla designers who utilize proven methodologies to deliver robust Joomla websites, portals and applications.
Our experienced and dedicated Joomla web designers work as per your requirements within the stipulated deadline to comply with your business's long term objectives. Our Joomla web design services include the following:
Transfer of existing sites to Joomla
Maintenance and support of Joomla websites
CMS installation and configuration on your Joomla site
Joomla theme customization
Customized web design and development based on Joomla
Development of web portals and web applications based on Joomla
Why clients rely on us to create websites based on Joomla CMS?
Our team at Faith e-commerce services is adept with the growing challenges in the online world. Our experts excel in creating highly interactive and bespoken Joomla sites, applications, and portals in a cost-effective and timely manner. Our dedicated team of experts takes into account the various parameters so that your website look stunning and load at lightning speed. Here is the list of some reasons that why you should rely on Faith e-commerce services for your Joomla web design requirements.
SEO friendly design
One of the biggest strengths of Joomla is that it has an SEO friendly structure. However, it is important here to note that its SEO friendliness can be further enhanced by the team of our web developers. Our expert and experienced team of developers use SEO-enhancing modules as well as plug-ins. We also eliminate structural issues to install SEO-friendly URLs so that your Joomla based website is popular among your audiences.
Highly customized extensions
Our Joomla website design services include the handling of various versions of Joomla. We can also improve and enhance your existing Joomla website with the help of multiple extensions. Our developers can also design different plug-ins and modules that can suit your website needs.
Develop interactive websites with us
Every imaginable type of site can be designed with the help of Joomla. With Joomla, you have the freedom to go crazy with your demands. Our adept team of expert developers and designers would take your idea and turn it into a stunning Joomla website.
How we carry on with your demands for a Joomla based website?
We commence with your Joomla project only after we have finished identifying the requirements of your target audience. This, in turn, assists us to offer you a more successful website with higher conversion rates thus surging your online sales.
Our Joomla design services do not follow a blind development path. Our professionals devote a significant amount of time and effort to design a practical layout for every single page of the website. This helps us to create a site whose each page speaks of quality and the message it wants to convey.
Being a Professional web design company, our web developers work on the overall theme and personality of your website- from an alluring design to unique and versatile plug-ins.
Our feat in the industry has been quite impressive, and we are eager to keep this good work going. Our talented developers keep introducing new ideas and strategies which assist in steady and fast development consistency. Our Joomla design services would let you achieve maximum revenue and business profits. Our sole aim is to deliver the project in a timely and cost-effective manner.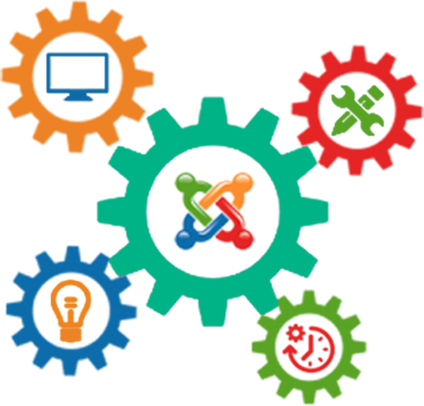 Expand your business online and experience enormous growth with our result-oriented and tangible solutions. Please feel free to get in touch with us anytime for queries related to Joomla web design services.
If you are happy to read about our services so far and have decided to have "faith" in us, then do not hesitate to contact us for any of your Joomla design projects and we would be happy to work it out with you.
Avail the services of the best Joomla design agency by getting in touch with us today.